WHAT HOME TRENDS ARE STICKING AROUND IN 2021?
In three days, we will turn the page on 2020 and look to 2021 with full hearts! So, what are our predictions for 2021? Well, this year allowed us to look at our homes with new eyes: problem-solving eyes. Where can the kiddos do homework… undistracted? Where can I do work… undistracted? How can we utilize our space, stay sane, and stay out of everyone's hair?! We took a look at our spaces and needs, and we predict 2021 will bring these needs some solutions.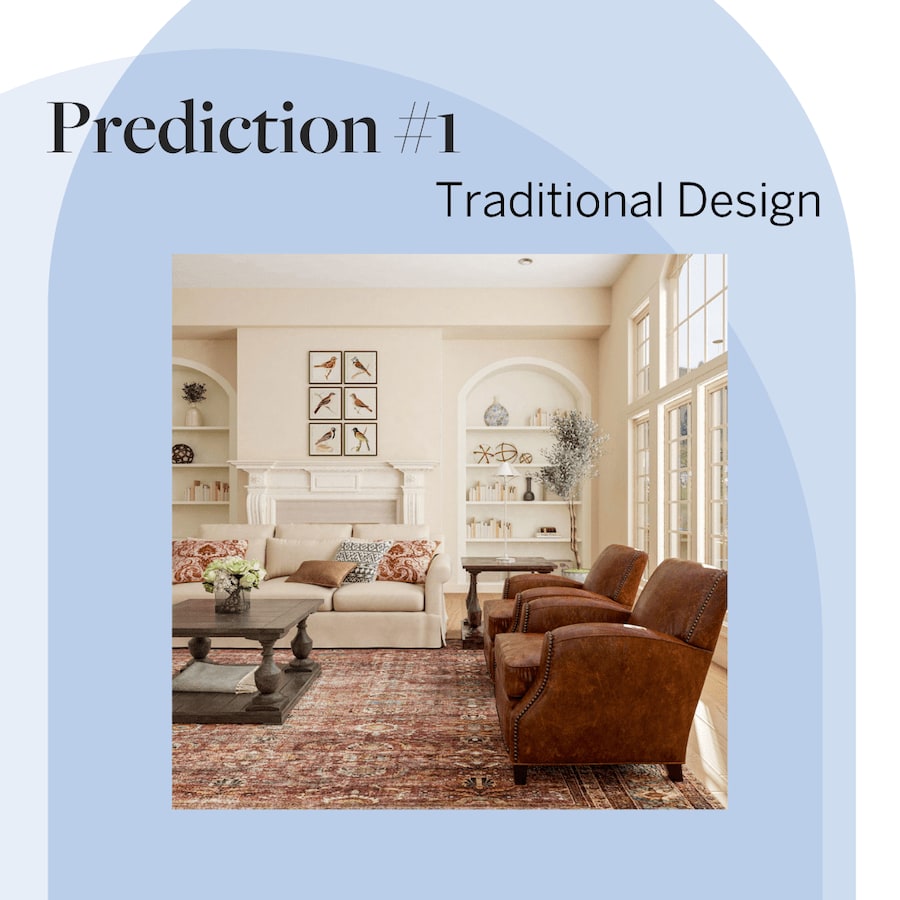 Prediction #1: Rise in traditional design
With the weight of this year's uncertainties, we are all looking for comfort and security – especially at home. Home design is starting to show a rise in "
traditional comfort
" style that brings in elements that are more eclectic, comfortable, and bring a familiar feeling of family. Maybe that means your grandparent's trinkets and style will start to show up in your own home? Will a gallery wall of family photos and memories find its place on your previously bare walls this year?
Prediction #2: Continued demand for home offices and dedicated study spaces
We've already seen a rise in demand for home office spaces and study areas for at-home learning. Now more than ever, the separation of these spaces is needed for privacy, focus, and structure. Having a dedicated space to get work done is crucial for work/life balance. Research shows that having separate workspaces helps to define your physical surroundings and can cue your brain to "switch on and off" from work to establish that balance and ritual for each day. If you don't have a spare room or office, take a look at the unused spaces in your home. Maybe you rarely use your formal dining room or there's a corner of your living room that sits forgotten? Use a bookshelf or divider to separate your space and create a dedicated area for work. Find more ideas
here
.
Unsung hero
: The bookshelf backdrop! Yes, your colleagues are checking out your home behind you on your Zoom calls. Have you thought about what's behind you and what stories and personality you can show and tell? How about that statue your kindergartener made you? Or your favorite book series? Or what about that colorful vase you bought on your trip to Italy? Check out what people are learning from celebrity bookshelves:
here
and
here
.
Prediction #3: A rise in home organization
Beginning with Marie Kondo and her tidying methods for "sparking joy" to The Home Edit's rainbow-coordinated container management, inspiration for home organization is everywhere and surely to continue into 2021. Thanks to
Neat Method's
luxury home organizing, my kitchen is tidy and organized with everything in its place. Kick off the new year by crossing "organize the pantry" off your resolutions list!
Prediction #4: Creative outdoor spaces and sunrooms
There are few things that beat fresh air. We are sure to see creativity with outdoor spaces, whether that's a balcony, deck, patio, or full backyard. We've seen how bringing some outdoor furniture to a porch can create a new living space or how a
Solo Stove
can create a new activity and opportunity for an outdoor gathering. We can't wait to see what spring and summer 2021 bring for home improvement and creative outdoor uses of space.
Cheers to 2021!
Whatever 2021 may bring, we hope for happy, healthy, and healing days ahead. If you foresee the new year bringing about a bigger change, such as moving into a new home,
contact us
to learn about how we can help you throughout the home selling and buying process for a successful and stress-free move!